Awards Ceremony
2017
3rd Annual International Mathematical Modeling Challenge (IM2C)

On August 7, 2017, with the efforts by COMAP and NeoUnion ESC Organization an award ceremony was held at Harvard University, Cambridge MA., USA. The Outstanding team from the USA and three randomly chosen Meritorious teams from Argentina, South Korea and Russia were invited to attend. The teams were asked to prepare short videos on their experiences, as well as give presentations to a distinguished international audience. We present the videos and power point presentations here for your edification and enjoyment.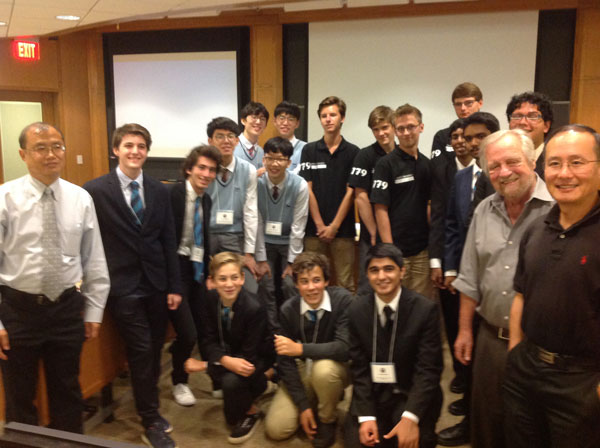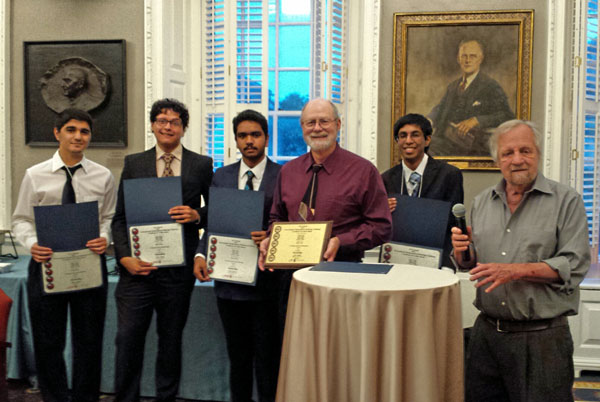 NC School of Science and Mathematics, Durham, NC, USA
Advisor, Daniel Teague
Ahmad Askar
Nikhil Milind
Nikhil Reddy
Sreeram Venkat
St. Andrew's Scots School, Buenos Aires, Argentina
(Meritorious)
Advisor, James Thomas
Andres Eskenazi
Andres Amaya Toustau
Tomas Popowsky
Simon Lhez
School 179 of Moscow Institute of Open Education, Moscow, Russia
(Meritorious)
Advisor, Vladimir Podolyaka
Bubnov Egor
Drozhdev Alexey
Kniazev Anton
Shmelkov Kirill
Click here to view the power point presentation.
Gyeonggi Science High School for the Gifted, Suwon, South Korea
(Meritorious)
Advisor, Kyoung Hee Cho
Jinhee Paeng
Kibum Kim
Seungmok Lee
Geonung Ko
Click here to view the power point presentation.